Ultimately, price appreciation depends on three fundamental measures of earnings: earnings, earnings growth, and the stability of both. If earnings historically have gone up year-over-year, if earnings growth has been steadily increasing, and both have a good track record, i.e., a history of this performance, price increases as well as buying pressure increases until (1) price becomes expensive relative to earnings and their growth rates (PEG values become too high), (2) owners take profit (increasing selling pressure), (3) short sellers enter the market because they think the stock's price is extended (adding to the selling pressure), or (4) the market as a whole or the particular business sector becomes extended (again increasing selling pressure). This increased selling pressure, in turn, leads either to a pullback in price or a congestion of price over a trading range for a period of time. If both market and sector remain bullish, if the stock's fundamentals haven't changed, and if the PEG ratio remains below 1.75, one wants to buy the pullback, at likely areas of technical support (e.g., moving averages, prior reversal areas, Fibonacci support areas, etc.)
Further Along in the book
Appendix 1: Buying the Pullback
"The thing that hath been, it is that which shall be
and that which is done, is that which shall be done
and there is no new thing under the sun."
………Ecclesiastes
You've probably heard or read them: the analysts, economists, and corporate leaders on CNBC or the print media offering us their opinions concerning the health of the market or about a particular stock. They like a particular stock based on its current fundamentals, but we rarely know their motives! Are they telling us to buy while at the same time telling their customers to sell or selling themselves? Or do they just not have a real clue? Who knows? Why is it, for example, that when you see a magazine's cover featuring a company that has done well, it's price invariably falls over the next six months? This last is a well-known contrarian indicator. If a company has done well enough to appear on a cover, every fund that wants it already owns it; consequently, there is little new buying pressure to further drive price higher. Clearly, near term fundamentals, which is what these so-called experts are basing their opinion on, don't tell the whole story.
Charts like the one drawn for UOPX, on the other hand, track the flow of real money: the actual buying and selling pressure where people and institutions are putting their hard-earned money on the line. Charts track the degree of these contrasting forces that are responsible for pushing the price up or down. It's worth understanding the varied patterns of day-to-day price movement, because once you understand the market's psychology reflected in these price patterns and price/volume relationships, you stack the odds in your favor, and the immediate future—the next few days or weeks at least—becomes more predictable. You're not always right, but your odds are more favorable, and when you are wrong, your money management rules limit your losses. The market plays out the same pattern over and over again. Learn and profit.
Candlestick Patterns: a Reflection of Market Psychology
Candlestick charts, like those daily bars in the UOPX chart above, were developed in the east. Unlike the west, which marks today's close in relation to yesterday's as the most important charting event, the east feels that today's open in relation to today's close is a far more important event in tracking market psychology. Figure 3 shows 13 days of price movement charted as daily candlesticks. Note, each day's bar is made up of a rectangle (the candle's body marking the opening and the closing) with whiskers protruding from the top and bottom of each rectangle (the daily highs and lows).
Further along in the book
Appendix 2: Risk Control or The Science of Money Management
If there's a golden goose in stock trading or investment, it's sound money management strategies. This aspect separates stock market professionals from the amateurs that routinely buy at the top, panic, and then sell at the bottom or just buy and hold for the long term (and watch their EMC drop from $110 per share to under $10). In every transaction, one should define risk, i.e., a maximum loss point, before buying. One needs a strategy to decide how many shares to buy, when to buy those shares, and under what conditions to sell them at either a loss or profit. I prefer buying pullbacks to breakouts simply to better define and control my losses.
<![if !vml]>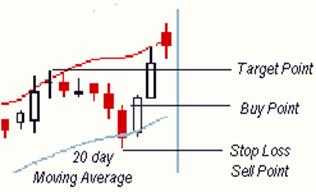 <![endif]>
For purpose of this discussion, let's assume that you have a $100,000 trading account from which you're willing to lose $1000 on any single transaction. Assume too, in the trade shown in Figure 5, your buy point is $20, your stop-loss point is $19, and your target point is $21. If you limit your maximum loss to $1,000, you can buy
Number of Shares = $1,000 / (buy point – stop-loss point)
= $1,000 / ($20 - $19)
= 1,000 Shares
---